Check out our guide to throwing a great kids' birthday party in Queens. You'll find fun ideas along with party places and venues, caterers, supply stores, entertainers like clowns, magicians, musicians, and more!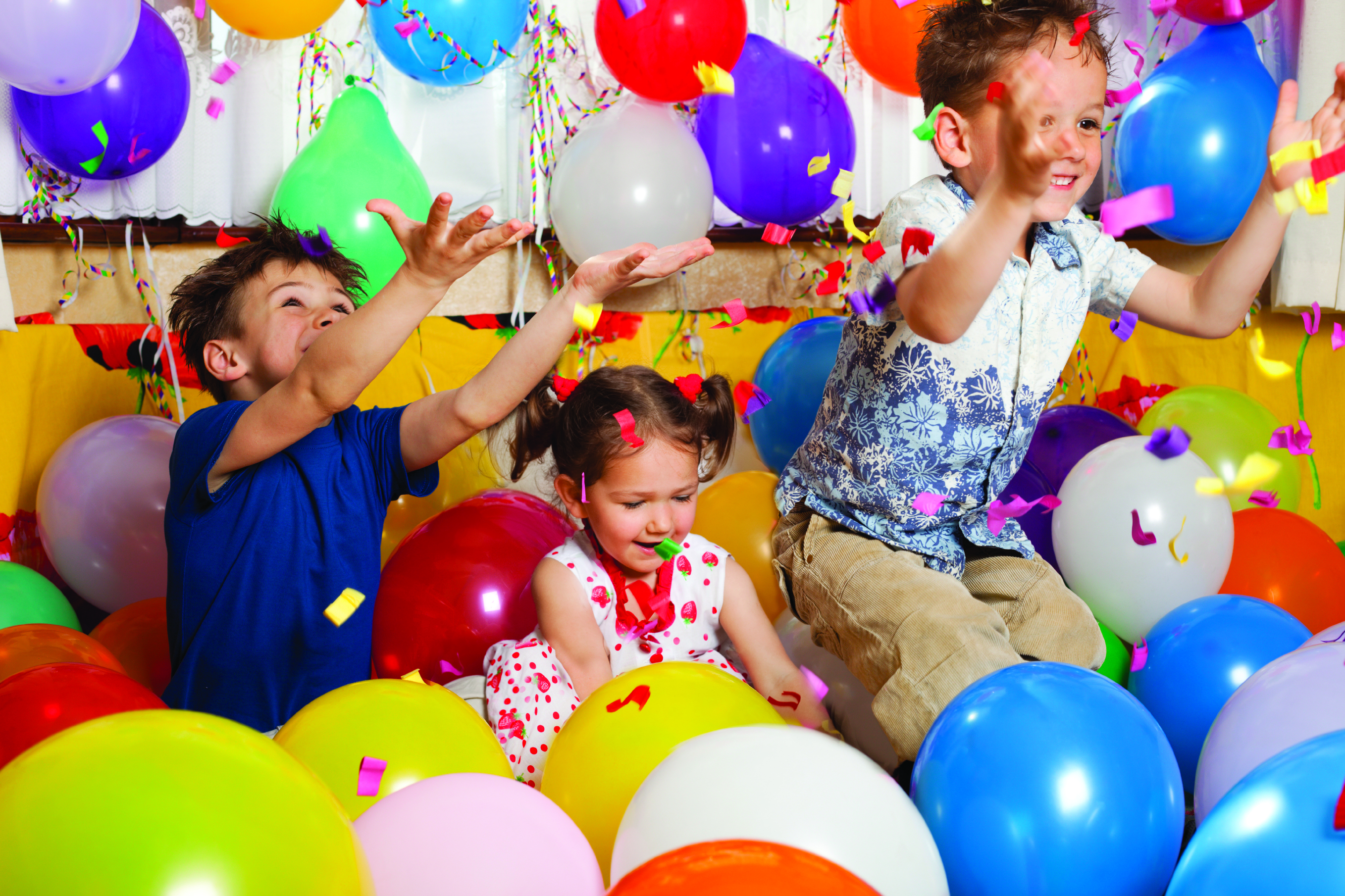 AMERICAN DANCE & DRAMA
188-22 Union Turnpike, Flushing
718-479-8522
72-24 61st St, Glendale

As one of Queens' largest, most exciting birthday party locations, we specialize in one party at a time. Girls enjoy dress-up, disco, and gymnastic parties, tunnel maze, moon bounce, ball pit, bubbles, fog machines and cotton candy. Music video parties star your child in a video shoot on our state-of-the-art stage. Boys go crazy for gymnastics, basketball, and wild obstacle course competitions. We also offer crazy craft, princess parties, and first birthday parties. Magicians are also available—your place or ours!

BAYVIEW SWIM CLUB
217-14 24th Ave., Bay Terrace
718-428-0100
Email btcc61@verizon.net

Birthday pool parties. This year book a pool party for your child's birthday at the Bayview Swim Club overlooking Little Neck Bay. Choose from one of two party packages. Each includes swimming, a private party area, lunch and soft drinks for the kids, a catering menu and cash bar for the adults and a party coordinator to assist you so you can be a guest at your own party. Call or email for a brochure. See you in the pool!

THE CHILIBEANS PARTY PLACE
103 Meade St., Hempstead
516-680-3024
Email chilibeans4fun@aol.com

Fun-filled, private, and affordable children's birthday parties are our specialty! Children, family, and friends celebrate first through 10th birthdays in a spacious and beautifully decorated party environment. Bouncers, legos, soft play items, a tree house, hungry hippo, rock-climbing wall, jungle gym, and Wii games. Crafts, music fun, the Story Lady, karaoke, and our own special carnival are exciting add-ons. Visit chilibeans.com.

CHRISTY'S GYMNASTICS
150-50 14th Road, Whitestone
718-767-0123

Christy's Gymnastics birthday bash is a full hour and a half of fun. Kids will have a blast swinging on rings, sliding down slides, walking on balance beams, and rolling and jumping over our obstacle courses. Jumping on our tumble track and trampoline just tops the cake. Kids can challenge themselves on our fantastic rock-climbing wall. Celebrate your child's birthday in your very own private party room. You are provided with everything necessary, so leave the planning to us and we'll leave the partying to you.

DENISE MAKES CAKES
917-689-4857
Email denisemakescakes@gmail.com

Whether it's a wedding, birthday, anniversary, thank you, or just for fun, we have the perfect cake for you. Creating delicious memories one cake at a time. Celebrate in style with a beautifully designed cake from Denise Makes Cakes. We offer formal and whimsical designs, all baked with the finest ingredients to ensure that your cake tastes as good as it looks. In addition to cakes, we also make custom cupcakes, cookies, chocolate party favors, and more! Please feel free to contact us at denisemakescakes@gmail.com or by calling 917-689-4857.

GO! TENNIS
34-28 214th Place, Bayside
718-224-6303

Go! Tennis Programs, located at 34–28 214th Place in Bayside, is happy to now offer birthday parties for our youngest players through our Teddy Tennis program. It's great fun and a great introduction to the wonderful world of tennis! We offer three different packages for 1 hour or 1½ hours: Bronze, Silver, and Gold (teddytennis.com). Go! Tennis offers an extensive indoor and outdoor junior program and summer day camp.

ISLANDERS ICEWORKS
175 Underhill Blvd., Syosset
516-496-2277

Get ready to give your child a birthday they'll never forget – an ice-skating party at Iceworks, the official practice facility of the New York Islanders. Your child and their friends can experience the thrills, chills and even spills of skating at the same facility as the Islanders. Best of all, you bring the kids, cake & candles, we'll handle the rest! No matter the season, Islanders Iceworks is the coolest place to host your child's birthday party!

LONG ISLAND CHILDREN'S MUSEUM
11 Davis Ave., Garden City
516-224-5800
Email info@licm.org

Have your party at one of the top party sites on Long Island. Choose from eight party themes that utilize the museum's popular exhibits and programs to provide your child and guests with an unforgettable celebration. Parties offered on weekdays and weekends. Customized goodie bags are available through the museum store. Best gift of all—we handle it all, from setup to cleanup so that you can enjoy the special day! Call 516-224-5871 for details.

MOMMY, MUSIC, & ME, INC.®
718-229-0033

We provide unique birthday party musical experiences for first through sixth birthdays. Families and friends participate and celebrate a very special birthday child's day in a way in which everyone gets to share in the fun. Grown-ups marvel at the ways children express their musicality, through movement, song and instrument play. Call us to customize your child's musical birthday! We can come to your space! We offer Music Together® sessions for all seasons. Call or email to schedule your free trial class or visit us online for easy registration.

NEW YORK ISLANDERS
1255 Hempstead Turnpike, Uniondale
800-882-ISLES x3

Still trying to plan the best birthday for your child? The Islanders have the hottest party on ice! Discounted tickets, a visit from Sparky the Dragon, your child's picture on the video board & much more are included in our Islanders birthday bashes. You've never had a birthday party in this atmosphere before. Add on bonuses can include autographed jerseys, sticks, & pucks for the child. Give your child the experience of a lifetime!

PARK CITY SWIM CLUB
98-00 62nd Drive, Rego Park

Kids and their families and friends enjoy a fun, active and healthy birthday party at Park City Swim Club, an urban oasis for over 30 years! Kids love the round heated kiddie pool and adults enjoy their large heated pool as well. There is a seating area and we provide a lifeguard, tables and umbrellas and barbecues for your own use. We can provide a DJ or you can bring your own. Call now for more information.

POWER BRAIN TRAINING CENTER
43-01 Bell Blvd., 2nd Floor, Bayside
718-224-1500
567 Jericho Turnpike, Syosset
516-364-3413

The new camp everyone's talking about. At our "Fun and Focus Summer Camp" children ages 4-14 spend seven weeks tapping into the infinite potential of their brain. Our interactive and engaging camp empowers students to improve social relationships, confidence, physical health, creativity, concentration, and academic success. Campers participate in a variety of physical, emotional, and cognitive activities including: yoga, visualization, team problem solving, tai chi, left/right hemisphere integration, brain wave vibration, HSP dance, brain screen study sessions and more! Help your child create health, happiness, and peace using their Power Brain! Call about our birthday parties.

PROFESSIONAL KIDS ENTERTAINMENT
Proudly Serving Long Island, Queens, Brooklyn, Manhattan & the Bronx, Franklin Square
516-596-5067
Email adolph.blackstone@gmail.com

At Professional Kids Entertainment, our goal is to create an unforgettable and memorable party experience for you and your family. We provide the highest quality children's entertainment and rental services in the industry. If you're looking for a professional, dependable, and enthusiastic team – you've come to the right place! We are a family-owned and -operated entertainment company, offering a wide range of party and entertainment services including: clowns, inflatable bounce houses, characters, magicians, princesses, magic shows, face painting, party concession rentals, and more.

PROGRESSIVE MARTIAL ARTS
175-25 Horace Harding Expressway, Fresh Meadows
718-461-0700
Email ks@progressivemartialarts.com

Progressive Martial Arts hosts birthday parties for ages 4 and older. Our parties include games designed for all ages that introduce kids to cooperative games they no longer play in the school setting. Parents are also welcome to join in the fun. Our 4,500-square-foot facility provides the space for up to 40 children and is padded for safety. We set up, provide pizza and juices, and clean up. Our staff will also send out invites and thank you cards upon your request. Call now to schedule your child's birthday party.

RITZY GLITZY GIRLZ CLUB
245 Jericho Turnpike, New Hyde Park
516-327-GLAM
Email ritzyglitzygirlzclub@yahoo.com

Glam spa parties for little girls, tweens, and teens. Have your birthday party in our Fabulous Pink Boutique, or we can bring the glam to you at home. Be a glam princess, star-studded diva, have a Glamy Jamy Pajama Party or indulge in our Ice Cream Dreamz Spa Party. Our parties include manicures, pedicures, facials, hair, makeup, a Pink Carpet Runway Fashion Show, photo shoot, dancing, games, and prizes. Call us now to book your Ritzy Glitzy Extravaganza. See you on the Pink Carpet!

ROBOMINDTECH STEM LEARNING CENTER
185-10A Union Turnpike, Fresh Meadows
718-264-7626 (ROBO)
Email robomindtech@gmail.com

Science, technology, and LEGO party fun! RoboMindTech hosts theme-based birthday parties that are so much fun, kids forget they're learning. From medieval times to modern inventions, children immerse themselves into a game setting and even work with fun LEGO projects. RoboMindTech science and technology learning center integrates the motivational effects of robotics and LEGO(r) play into a unique, hands-on curriculum for kids ages 4-14. Our curriculum is designed to inspire young minds.

SOCCER FRIENDS USA, INC.
347-756-2568 (Para Espanol)
Email soccerfriendsusa@hotmail.com

Soccer Friends USA, Inc. offers soccer birthday parties for children ages 2 and older. Our parties are fun, dynamic, and energetic. Our aim is to keep all the children moving and engaged. We can offer both an excellent indoor and outdoor location in the Forest Hills/Rego Park area. Soccer Friends USA, can manage large groups of children and we provide all soccer equipment. For more information please contact us at soccerfriendsusa.com, call 347-756-2988 or 347-756-2568, or email soccerfriendsusa@hotmail.com

THE CAGE-BASEBALL, INC.
62-40 Metropolitan Ave., Middle Village
718-366-2122
Email thecagebaseball@aol.com

The Cage is a family owned baseball, softball, soccer, and fitness training facility serving the NYC area for over seven years. In addition to hitting and pitching tunnels, we offer private instruction by pro and college players as well as group In September we are starting an after-school program to help our children stay active. Please contact us anytime for more information.