Six students of the RoboMindTech Science & Technology Center in Fresh Meadows, Queens, competed in the New York City FIRST Lego League Championship on March 9, winning the title and moving on to represent NYC at the FIRST World Expo in St. Louis, Missouri this April.
Representing RoboMindTech Science & Technology Center in Fresh Meadows, Queens, six students ages 10-14 competed in New York City's FIRST Lego League Championship on March 9, part of the 13th annual New York City FIRST (For Inspiration and Recognition of Science and Technology) Mega-Celebration that brings three intense robotics competitions under one roof, and took home the championship title by outscoring more than 75 qualified NYC teams.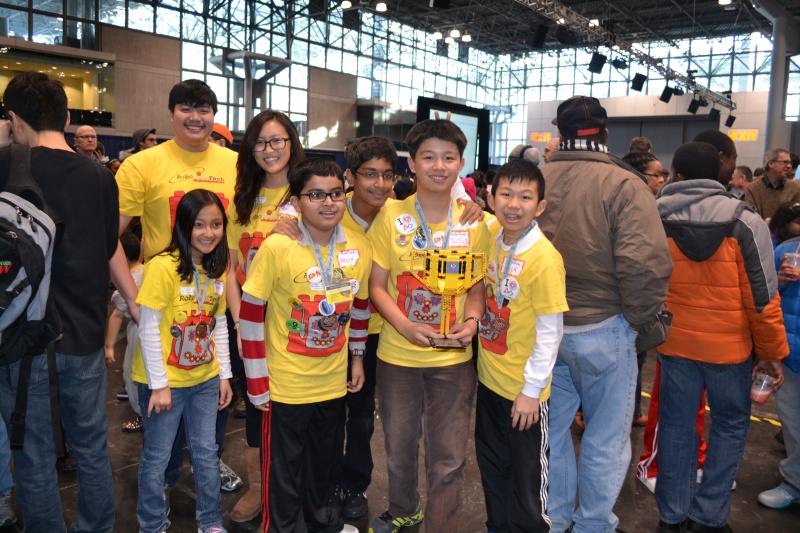 Team RoboTron of RoboMindTech takes home the FIRST Lego League championship.
Team RoboTron, which consisted of four boys and two girls, of RoboMindTech, which was founded by Dennis Chan, developed a talking dog app on the iPad after researching innovative technology solutions for a senior center. As winner of the FIRST Lego League Championship, the team is invited to represent New York City at the FIRST World Expo on April 24-27 in St. Louis, Missouri.
Team RoboTron worked on their entry into the competition since October 2012 at RoboMindTech as their Seniors Solutions, meeting on a weekly basis to work on the project and build their product from the ground up. The talking dog program is meant to help senior citizens in the senior center be socially active and happy. To earn the championship title, the team needed to achieve the highest ranking in three categories: Robot Game, Technical Design, Teamwork and Research.
For more information on RoboMindTech in Fresh Meadows, Queens, visit robomindtech.com.
The FIRST Lego League competition is held in 57 countries with more than 10,000 participating teams, and is relatively new to New York City.
FIRST was initially created by venture capitalist and inventor Dean Kamen, who wished to inspire children to explore and enjoy science and technology, and to remove the negative "nerdy" stigma surrounding these fields. With this inspiration in mind, Kamen created the FIRST games, also known as "The Superbowl of Smarts."
In addition to creating a platform to inspire kids to become future scientists and engineers, FLL gives kids an opportunity to apply to real-world engineering challenges using LEGO robots.