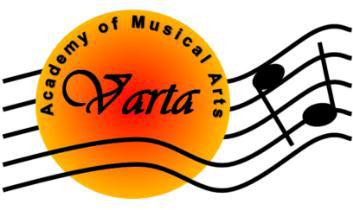 Nurturing environment
Variety of programs for every age
Personally created curriculum for every student
Small classes to provide individual attention to each student
Performance opportunities for all students enrolled in the school
At Varta Academy of Musical Arts we know what's best for your child! Under the guidance of our carefully selected faculty, educated in the leading conservatories of the country, our students greatly develop their talent and musicianship while not losing the fun of being kids! Our biannual student recitals are a celebration of our students' achievements and expression of their love of music.
Coming from a family with rich traditions in music education, owner and director Varta Tchakarian was born and first educated in Eastern Europe. She holds a Master's Degree from The Juilliard School, where she continued forming as a world class educator by attending all major educational programs offered by the school. Today, she is a dedicated pedagogue who is inspired by the example of the world famous musicians with whom she has studied.
Varta Academy of Musical Arts is conveniently located one block from the 63rd Dr. Subway Station in Rego Park, Queens (right off Queens Blvd). We offer ongoing registration for your convenience. Please stop by to visit our newly renovated facility. We are open Monday through Saturday.
About Our Programs:
Individual lessons: Piano, Violin, Guitar, Voice - personally crated program based on the student's needs and interests
Theory Classes: a supplement to the individual lessons that helps further develop musicianship skills (includes a successful Eastern European method for ear training)
Kids Introduction to Music: fun classes for children 3 to 5 years old that serve as an excellent preparation for future instrumental lessons
Advanced Program: ideal for students interested in preparing for college auditions, exams, and competitions
Performance Opportunities: two official recitals per school year held in a beautiful recital hall in Manhattan
QUEENS
REGO PARK LOCATION
64th Road and Queens Blvd
all ages and levels. The advantages of visiting a school location
include a wider variety of classes and lessons as well as We
offer the following types of individual lessons and classes:

INDIVIDUAL LESSONS

piano lessons

violin lessons

guitar lessons

voice lessons
At the initial visit each student receives a free assessment.
Based on that we determine the duration of the lesson and
create an individual plan for study. The repertoire we cover
ranges from classical to more contemporary styles depending on
the student's interests. Our students have the opportunity to
perform in a formal recital once every semester in a recital hall in
Manhattan. We also organize additional smaller performances at
the school several times throughout the year.

THEORY AND EAR TRAINING CLASS

Every student enrolled in our individual lessons has the option to
take a Theory and Ear Training Class at a discounted rate. The
class is designed to enhance the study of his/her instrument of
choice by developing broader musical skills. The class meets
once a week.

KIDS INTRODUCTION TO MUSIC

Our Kids Introduction to Music course prepares the student for
instrumental lessons. It is recommended but not required for
every child considering playing an instrument. The length of the
course varies from one semester to two years according to the
age and maturity of the student. It is offered for ages 3 and up.
Students who complete this course progress faster and show
more confidence in their future instrumental training.

ADVANCED PROGRAM

This program is specifically developed for students who are
interested in entering competitions, taking exams or preparing
for auditions. In addition to the instrumental lessons we offer
Chamber Music as well as courses in Theory, Ear Training, and
Music History. Discounts apply for packages. Entrance audition
is required.

BACK TO SCHOOL
Empower you child with quality music education early in life! We provide music classes for children as young as 3 year old. Our specially designed Kids Introduction to Music class prepares students to play an instrument while having fun. For students 4 and older we offer piano, violin, guitar, and voice lessons. Our exceptional faculty works with students at any level form beginner to advanced. We provide exciting performing opportunities! If you are looking for excellent music education, come to Varta Academy of Musical Arts!
Want to learn more about this business? Send them a direct inquiry.
Be a good fellow parent and share this with a friend who would be interested
Read More on NYMetroParents.com:
Summer Activities in Westchester County, NY Part 2
Do you need great summer activities for kids in Westchester County, NY? Use our guide to find kids classes, Westchester summer camps, summer programs, activities near Westchester County, and family excursions close by. Summer activities in Westchester are at your fingertips.

Summer Activities in Westchester County, NY
Do you need great summer activities for kids in Westchester County, NY? Use our guide to find kids classes, Westchester summer camps, summer programs, activities near Westchester County, and family excursions close by. Summer activities in Westchester are at your fingertips.

generationOn Presents 2013 Outstanding Leadership in Youth Service Awards
During a benefit in Manhattan, generationOn presented its 2013 Outstanding Leadership in Youth Service Awards to Chelsea Clinton, Julie Fisher Cummings, and Bank of America. It also presented 6 young people with the 2013 Hasbro Community Action Hero Awards.

Ask the Expert: Should I Enroll My Shy Child in Musical Theater Classes?
The education director of TADA! Youth Theater in Manhattan answers why it might be a good idea for parents to enroll a shy child in musical theater classes to help their development, why parents' support is essential in nurturing an artistic child, and the importance of "failing forward."

Westchester Children's Museum Gala Raises Close to $200,000
The Westchester Children's Museum gala at The Ritz-Carlton Westchester in White Plains raises nearly $200,000 with the help of more than 350 museum supporters, including county executive Rob Astorino who showed his public support for the WCM for the first time.

Taekwondo Studio Offers Women's Self-Defense Workshop
Counterstrike, a women's self-defense workshop created by Arnold van Deuran, Ph.D., director of Workout Place, is now offered to women in Bardonia. The self-defense class for women in Bardonia teaches young women the skills they would need to fend off an attacker.

Fencing Academy Offering Two-Week Summer Day Camp
Nyack-based Thrust Fencing Academy is offering a new summer camp this year, held at the Nyack Library. The day will be split into two parts: learning fencing techniques and being exposed to the sport with a lunch break at Memorial Park.

Fall Registration Now Open for Star Kidz's Mount Kisco Location
Star Kidz, a performing arts program, will open its new location in Mount Kisco in the fall and registration for fall singing, dancing, and acting classes is now open.

Rockin' Parties Brings the Fun to You
Rockin' Gamin' Parties and Rockin' Glamour Parties, a mobile party entertainment business based in Montvale, NJ, offers video game and glamour and makeup parties for children in Bergen, Rockland, and Westchester counties. Parties are held in 30-foot, climate-controlled trailers that come to you and keep the party out of your house.

Ask the Expert: How Do Neurofeedback and Brain Mapping Help Treat ADHD?
The American Academy of Pediatrics recently rated biofeedback as evidence-based "Level 1-Best Support" for treating ADHD. We spoke to Anthony Silver, MS, MA, MFT, BCIA-EEG, director of Gray Matters in Westport, CT, about biofeedback, neurofeedback, and brain mapping and how they help diagnose and treat ADHD.